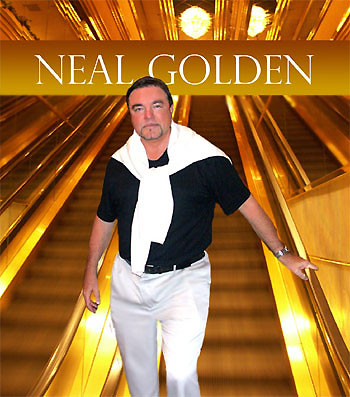 Bio

Now dedicating his musical career to his Foundation, for helping teens worldwide, Neal is appearing at Resorts, major Ballroom Fundraisers for Foundations, and a host of events and gigs. Currently, he is at the newest Flamingos Resort in Nuevo Vallarta, Mexico. There he does a full show complete with the five-star resort's Flamingo dancers.

Over the past year Neal has been preparing new music, and writing new music he hopes to be able to include in his new Neal Golden Productions' Shows.

Music was ever-present in Neal's (birth name, "Lekwa"), Golden's home life growing up in the heart of the Midwest. The Standards sung by Perry Como, Andy Williams, Nat King Cole, Frank Sinatra and Dean Martin on TV, had crooning becoming second nature to the budding singer. Singing in high school choruses and quartets took him to State Competitions and Grand Youth Concerts in Des Moines, Iowa. The '50's also gave way to him hearing the Ink Spots, Hi-Lo's, Mills Brothers and other classic Standards' Singers who performed at the Iowa State Fair.

In college the choirs and quartets Neal performed in toured the West which highlighted an Easter Sunrise choir performance in the Hollywood Bowl in 1962. His college quartet represented the college in summer of '62 on a concert tour and at the World's Fair in Seattle, WA. Neal later returned to Seattle from Europe to make Seattle his home.

Neal also was adept at jazz and during his St. Olaf college years Neal's his Dixieland band experience also added a jazz line to the Golden Delivery. Smooth trombone performances led to an honorable mention by Big Band Leader, Stan Kenton for Golden's "Just a Closer Walk With Me" in the Yankton, SD's Jazz Festival. While an exchange student to Norway, Lekwa became interested in Opera via Jussi Bjorling's voice and teacher, and for the next several decades devoted himself to singing tenor arias and Neopolitan love songs, singing under the batons of greats like Tanglewood's Melvin Straus and Boris Goldovsky of the Metropolitan Opera.
But not until his later years, after selling a national franchise and starting another business in the hotel and travel industry, did Golden's interest return once again to the old Standards.
A resurgence of Sinatra's popularity following his death in '98, led to Golden's discovery of his own hidden talents in delivering Standards. He immediately became immersed in these old classics, developing his own style – part jazz from his trombonist years, part Sinatra's sonorous tones and authority, part Nat King Cole's cracking intro notes, and hints of Johnny Mathis in classics like "Unforgettable" and "Chances Are." But always Golden's touch is his smooth, lyrically woven, almost "purely golden" delivery.
It's mainly in interpretations of old classics, including now Country, that Golden discovered his true voice. With it he has found new ways for self-expression as his great vocal talents continue to unfold.
With his three octave range and a natural, lyrical line with sustained notes held over from his trombonist years, technical abilities abound. From the sweet, deep memorable, "Embraceable You" to "Am I That Easy to Forget," a host of styles and treats crop up in between – making for a distinctive, compelling, unique artistic performance.
With his operatically trained voice, handling the big production numbers of Humperdinck and Tom Jones - Golden is part Welch - is a natural. "Delilah" and "Am I That Easy to Forget" are his benchmarks.
During the summer of 2005, Neal returned to his hometown, Williams, Iowa to present a "Concert in the Park" to returning alumni and local residents. (See Press- Williams)
Delivering a compelling stage performance with his commanding 6'3" up-beat stature, rivaling his Norwegian cousin's (James Arness from "Gunsmoke"), this performer and businessman from Iowa starts to sing and immediately heads turn. As a Country singer in leather, head-to-toe, he can hold spellbound his multi-generational audience. Building the program over a 1 ½ hour span, Golden works and involves his audience toward a rewarding climax.

Knowing when to deliver the finale and walking off is another Golden hallmark. There are no encores. His program is what you get. And, it brings back fans for more.
Catch a Neal Golden Event